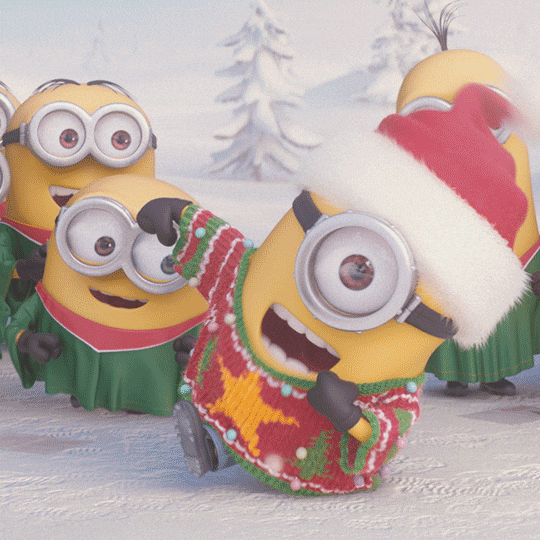 ◙▒◙♫♩♬ (Christmas Cocktails, Spotify playlist)
Ahhh…my heart is lightened and my stress level is down. Like I told my girl, El ♥(ˆ⌣ˆԅ), – the ultimate multitasker, I've been haulin' ass this week:
Monday: Drop off teen, midday doctor appt, & carpool
Tuesday: Drop off, Joann Fabric and Crafts, Target, get teen, take her to bigger Daiso, Target again, + Jimmy Beans Wool delivered by 5 p.m.!
Wednesday: Drop off, Costco run, carpool, & knit, knit, knit, knit, knit
Thursday: Drop off, started wrapping gifts, H&M, REI, sew, get teenager, Daiso, sewed for another two hours
Friday: Drop off, Trader Joe's, Jamba Juice (Hey! Buy $25 worth of giftcards and you get a card for two, free smoothies!), wrapped more gifts, Michael's, ULTA, get teen, wrapped gifts
I'm proud of the eighth grader because she learned how to wrap boxes. I also taught her that giving a cohesive-themed gift to each, main girlfriend was how to do it. So Tuesday she picked out headbands, polish, and soft, face towels from Daiso besides lip balm and face masks from Target. They were each surprised this morning to receive a wrapped, shirt-sized box.
My Chiaogoo circulars were flyin' all day Wednesday. I knitted the last, 25 rounds of this beanie! I know I knitted over 120K stitches for this Raider's Classic.
Deets (To Recap)
Yarn: Berroco Comfort DK
Colors: Gray & Liquorice
Pattern: Carol E. Herman of Knit Equals Joy Designs – The Warfarer Hat
Size: Adult Small
Other: I know for sure El's boss will fit this beanie around her head. I think she'll get a little bit of slouch at the top. I wish it was longer but time has run out. I'll be working on a handmade tag for it tomorrow.
The fifth grader gifted this zipper pouch to her teacher today:
I got the idea of making a gift bag and filling it with items from fellow sewists (Thanks, Karen, for the idea to use this word.) on IG. Inside was a Fandango giftcard, a box of EOS's holiday lip balms, and Essie nail polish – Social-lights. I think there was a happy teacher today.
I still have cookies to make tomorrow and will split the batch between my paternal grandmother and my Oahu aunty and uncle + wrap up my niece's Christmas gift last as her Sunday Sweater is currently drying:
Nothin' like last minute wet-blocking, yeah? One hundred, twenty pins are holdin' that baby to the mats. The front is drying well; I know the back is damp but I'll be running this drying station tomorrow as well. After that, I hope to be able to sew on the buttons by nightfall; dadgumit! Now where did I put them buttons? And I think I wrapped at least 17 gifts!
Okay, I promised my Jellybean we would watch a Christmas movie; I think we're watching Home Alone. Off to spend time with my Boo Boo! Thanks for dropping by. Have a good evening!